The cardboard packaging manufacturer, which provides to over 40 sectors worldwide, will process 15 thousand tons of cardboard and paper in its new plant located in Aguascalientes. In addition, it counts with the world's first 12-color rotogravure printing line among its facilities. The two buildings of the industrial complex cover an area of 126,000 square meters and are located in the San Francisco de los Romo industrial park in the city of Aguascalientes.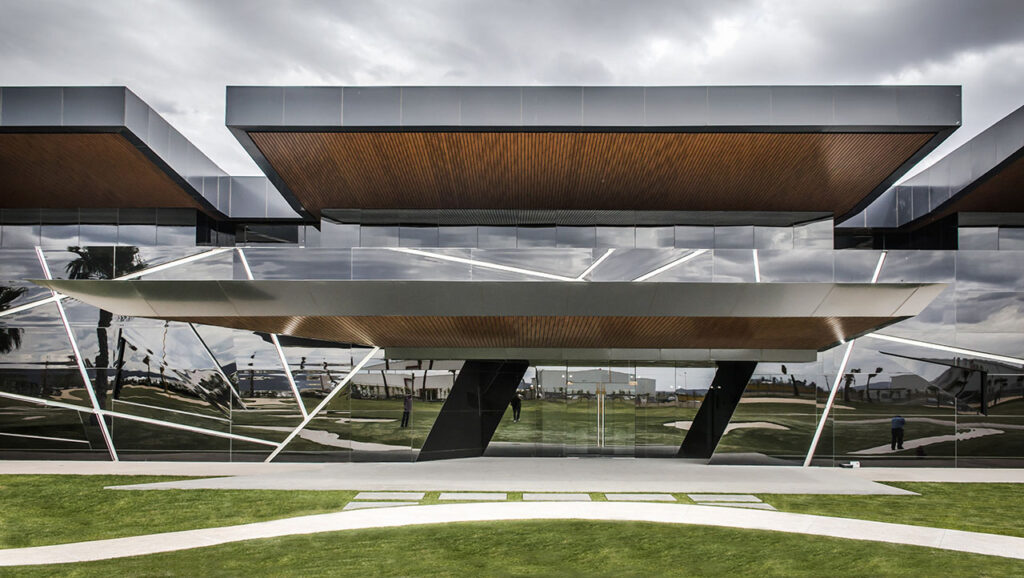 Simpleyfácil® installed a flat aluminum paneling of 78 mm with a gap or separation of 13 mm between panels, applied as a suspended false ceiling for a canopy covering an area of 1,500 square meters dedicated to employee recreation in the corporate headquarters. The wood finish of the slats was achieved by applying a Renolit® Exofol FX foil, developed by the German brand using the SST system that enhances the reflection of all color patterns, particularly dark colors and wood imitations, thanks to the profile's ability to prevent penetration of infrared rays.
Renolit® Exofol FX is the most technologically advanced and reliable exterior coating on the market. It is a recyclable product that comes with a comprehensive warranty and offers a wide range of textures and colors that meet the highest demands for solar radiation protection.
In addition to saving energy and providing sound insulation, Renolit® Exofol FX is a durable and aesthetically pleasing alternative to traditional coatings. The texture and natural resemblance offered by the wood tones surprise buyers to the extent of questioning its nature, given the warmth and ambient temperature provided by the profiles laminated with Renolit® Exofol FX. All the advantages of a wood finish without the drawbacks associated with it.
Renolit® Exofol FX is setting trends thanks to continuous technological advancements in colors, printing, and textures, supported by a team of professionals who analyze color and pattern trends that caters to new architectural trends. The technological advancements applied to Renolit® foils have enabled the brand to develop an industry-leading 20-year warranty for their Exofol FX foil. This warranty is unique in the market, catering to the demanding requirements of architects, builders, and consumers in general.