Skinwall is a ventilated facade system developed for sustainable design of wall claddings and ventilated facades, aiming for energy savings and thermal comfort.
The system is entirely composed of extruded aluminum profiles, both in its structural base and aesthetic components. The value engineering incorporated into the profile design allows us to offer a product that is easy to install, weather-resistant, lightweight, highly durable, and requires minimal maintenance.
The Skinwall system enhances the performance of buildings by providing an additional layer of insulation and allowing for natural ventilation, reducing the energy consumption required for heating and cooling. Its durable aluminum construction ensures long-term performance and protection against harsh weather conditions.
Furthermore, the system offers design versatility, as the aluminum profiles can be customized to achieve various aesthetic effects and integrate seamlessly with the overall architectural vision. The result is a visually appealing and environmentally friendly facade solution that promotes energy efficiency and occupant comfort.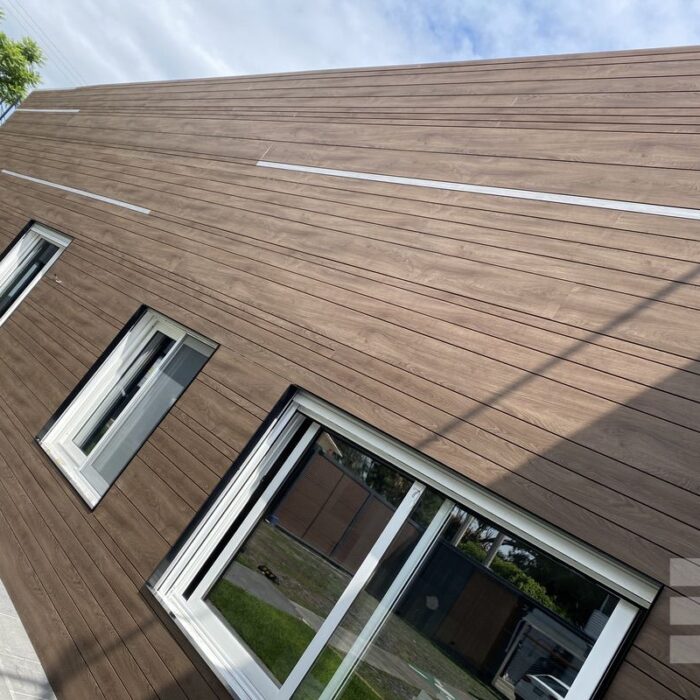 Free and Sustainable Design
Skinwall is composed of panels in four different sizes that can be combined randomly or according to patterns of shapes and colors, allowing for endless design possibilities. It also offers the option of perforated panels for areas that require transparency towards the exterior.
As a ventilated facade system, Skinwall creates a mobile air chamber that passively regulates the temperature inside the building, optimizing thermal and acoustic insulation. This innovative feature contributes to energy efficiency and enhances the comfort of the occupants.
The combination of design versatility, sustainable materials, and passive temperature regulation makes Skinwall an ideal solution for contemporary architectural projects that prioritize both aesthetic appeal and environmental performance.
The flat panels of Skinwall facilitate the incorporation of colors, finishes, and textures as expressions of elegance and design, thanks to the variety of laminates that cover our profiles and make our range of options unique in the market.
This wide variety of finishes reaches its full potential thanks to the possibilities of Skinwall to also cover interior walls or integrate as a ceiling in any type of project. By offering such versatility, Skinwall allows for seamless continuity and a cohesive aesthetic throughout a space, whether it's used for exterior facades or interior applications.
The ability to combine different colors, finishes, and textures not only enhances the visual appeal but also provides designers and architects with the freedom to create customized and unique designs that align with their vision and project requirements. Whether it's a sleek and modern look, a rustic and textured feel, or a vibrant and eye-catching design, Skinwall offers the flexibility to achieve the desired aesthetic outcome.