The SQ Square system aligns with the new trends in facade architecture, which propose linear, volumetric, and geometric forms that personalize projects to make them unique and spectacular. It combines these design features with the benefits of a system entirely made of aluminum, ensuring resistance to wind action for its application on large exposed facade surfaces.
Its distinctive design provides excellent performance in controlling the entry of rainwater, as well as ensuring the proper functioning of air conditioning equipment and limiting the view into the covered area.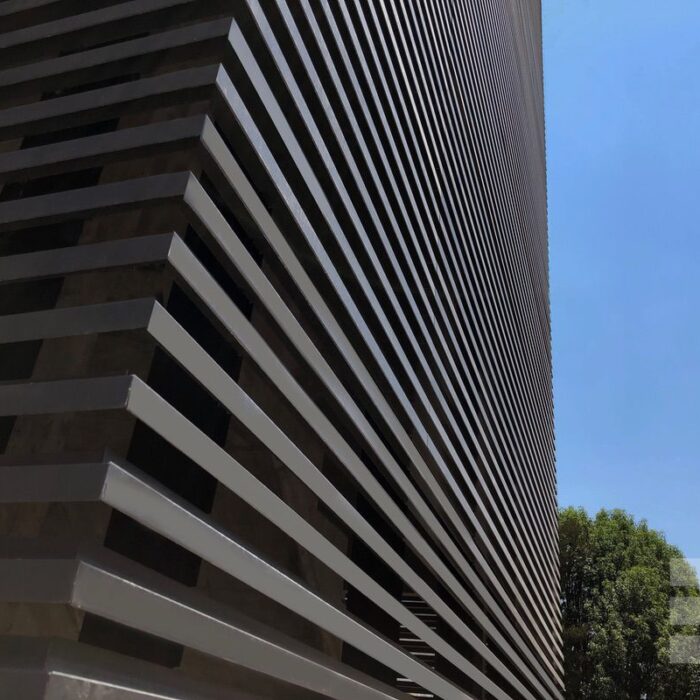 Highlight the character of a building
The shape of the SQ Square model stands out particularly in applications that aim to define the character of a building with color. The façade can then become a communicative and interactive screen with the environment and the viewer. This architectural proposal can be enriched with a variety of laminated finishes that are alternatives to wood, promoting bioclimatic architecture in harmony with the environment.
Perforated translucent façade
Within the SQ Square system, the option of perforated louvers is offered, recommended for installation as a solar control element in large glazed areas or spaces that require visual transparency towards the exterior during daylight hours.
During the night, these perforated facades can contribute to the creation of dynamic scenarios in combination with lighting effects. The perforations in the louvers allow for the passage of artificial light, creating an interplay of light and shadow that adds depth and visual interest to the building facade. This effect can enhance the architectural design and create a captivating visual experience for both occupants and passersby.