The importance of interior decoration in large commercial spaces, offices, restaurants, and public areas that provide various services such as airports, train stations, etc., has driven us to develop new proposals for linear aluminum ceilings that combine functionality and design.
Within this growing range of options, there is a significant trend towards minimalistic and industrial aesthetics, which aims to employ linearly projected forms that simulate wooden or metallic slats of different sizes as distinctive architectural elements in spaces that recreate large indoor pergola areas.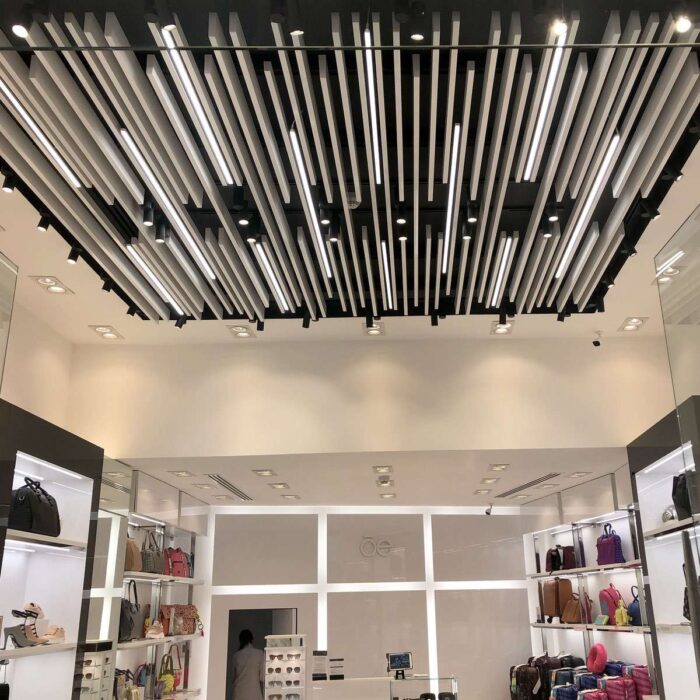 Extruded aluminum ceiling
The family of ceilings that comprises the V series consists of eight sizes or heights of slats that can be installed individually or combined within a wide range of spacing between profiles.
The structural strength of these aluminum profiles allows for the creation of very simple structures that can span up to 3.00 meters between suspension supports, creating more open spaces and enhancing the possibilities of designing on a larger scale than other products at an affordable cost.
The extensive range of laminated coatings we offer allows us to fully satisfy our customers' needs for creating more surprising and innovative spaces.
A product that is weather-resistant and requires very low maintenance is the perfect solution for outdoor applications, regardless of adverse environmental conditions such as pollution, rain, snow, humidity, and temperature variations.