The need to integrate solar control facades into large functional projects has driven Simpleyfácil to develop a variety of linear forms that have evolved in their systems and proposals to offer greater flexibility and adaptability to the design conditions of the projects.
These systems have transformed to respond in design and efficiency to the need for reducing energy demand for building conditioning, avoiding overheating of the building envelope, and optimizing the benefits of natural light utilization.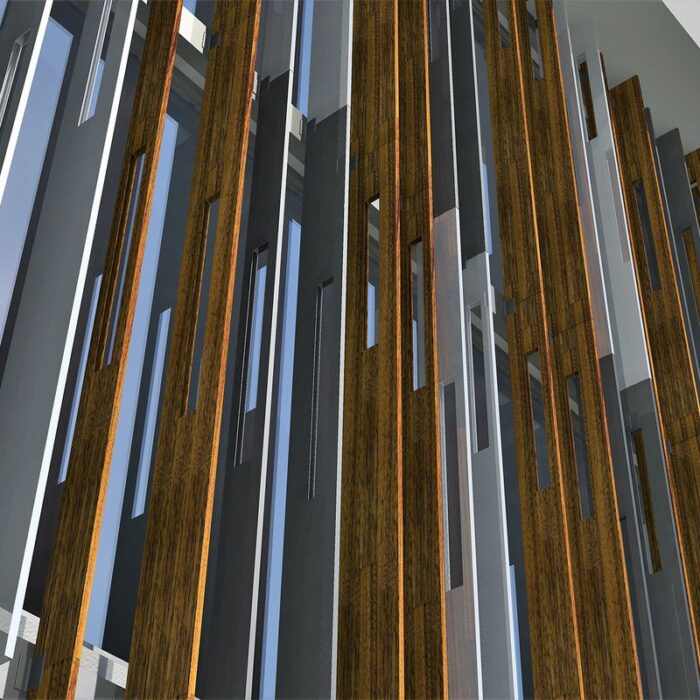 Projection and visual dynamism
This type of sunshade projects perpendicularly on the facade to disappear from the viewer's sight when observed from the same perspective.
When our perspective changes, the slats become evident due to their projection, increasing their visual weight and prominence in the design. From the interior, we can fully appreciate the panoramic view around us, making the most of natural lighting.
Vertical or horizontal orientation
The Sunset V louvers can be installed either horizontally or vertically, depending on the aesthetic or functional requirements of each project.
In general, the horizontal position of the louvers is more efficient for blocking UV rays but may require a more complex and visually invasive structure from the interior perspective. On the other hand, the vertical position may be less efficient for orientations more exposed to direct sunlight but aligns more with the minimalist architectural trends prevalent today.