Fences are used to delineate spaces between properties and provide added security. In the case of residential applications, in addition to the mentioned features, there is a clear trend that seeks to emphasize their architectural possibilities for decorative purposes, adding personality, elegance, and modernity to projects.
A variant of fencing is the so-called privacy wall, which incorporates the aforementioned characteristics with the specific function of acting as a barrier to prevent intrusive or unwanted gazes.
To meet design needs, there is a wide variety of material options available, as well as combinations of finishes, colors, and textures that invite creativity and allow for adaptation to different budgets. Below, we share some possibilities that you can consider based on your needs.
Wooden Finishes for Fences
Wood is one of the most common materials used in residential fences, along with stone or brick. It offers a wide range of qualities, durability, and flexible pricing. However, when considering wood for exterior applications, the cheapest options often end up being the most expensive in the long run due to maintenance requirements.
As an alternative to natural wood, there are various options available in the market using aluminum with sublimated finishes based on paint that imitates the look of natural wood. These options come with different qualities and guarantees that can provide better long-term results. Another option is a wide range of PVC coatings that are applied to laminate these profiles, replicating the surface of natural wood to such a degree that they are visually and tactilely indistinguishable. This option is highly recommended due to its guarantees in direct sunlight exposure and its low maintenance requirements. The variety of shapes and accessories offered by the aluminum market makes it a strong candidate for this type of application.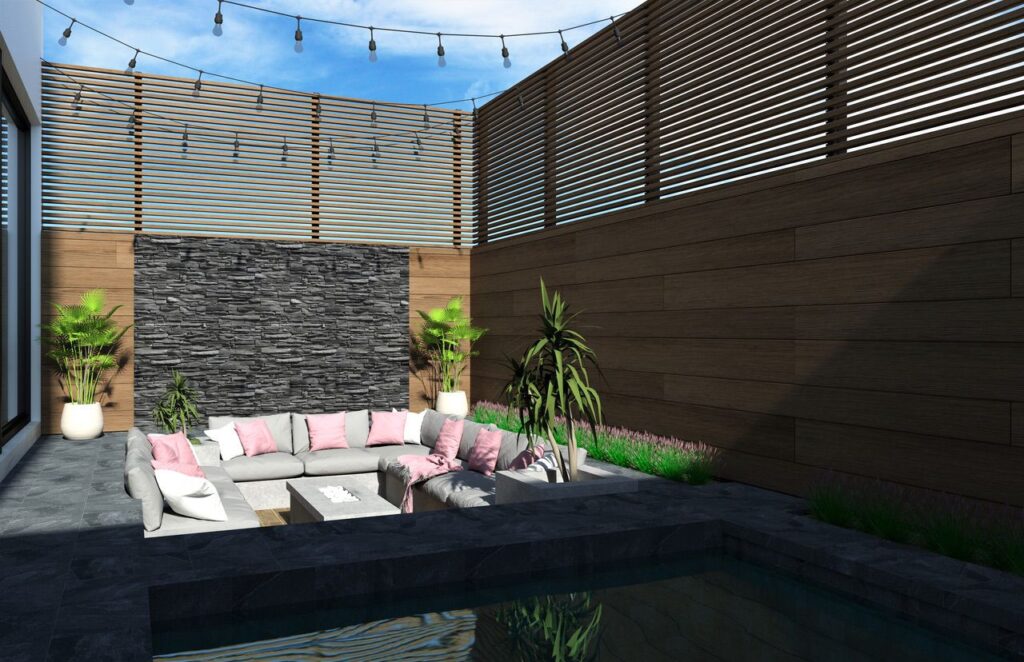 WPC profiles, resulting from the extrusion of PVC with wood sawdust, are also an option for those seeking low-maintenance imitations. In this case, it is necessary to consider a metal supporting structure that allows for screwing the planks, as this material undergoes significant contractions and expansions. To minimize this effect, some profiles are internally reinforced with a steel core.
Regardless of the option chosen, since the end consumer aims to replace natural wood with a similar-looking product that requires minimal maintenance, the manufacturer's durability guarantee is the best recommendation.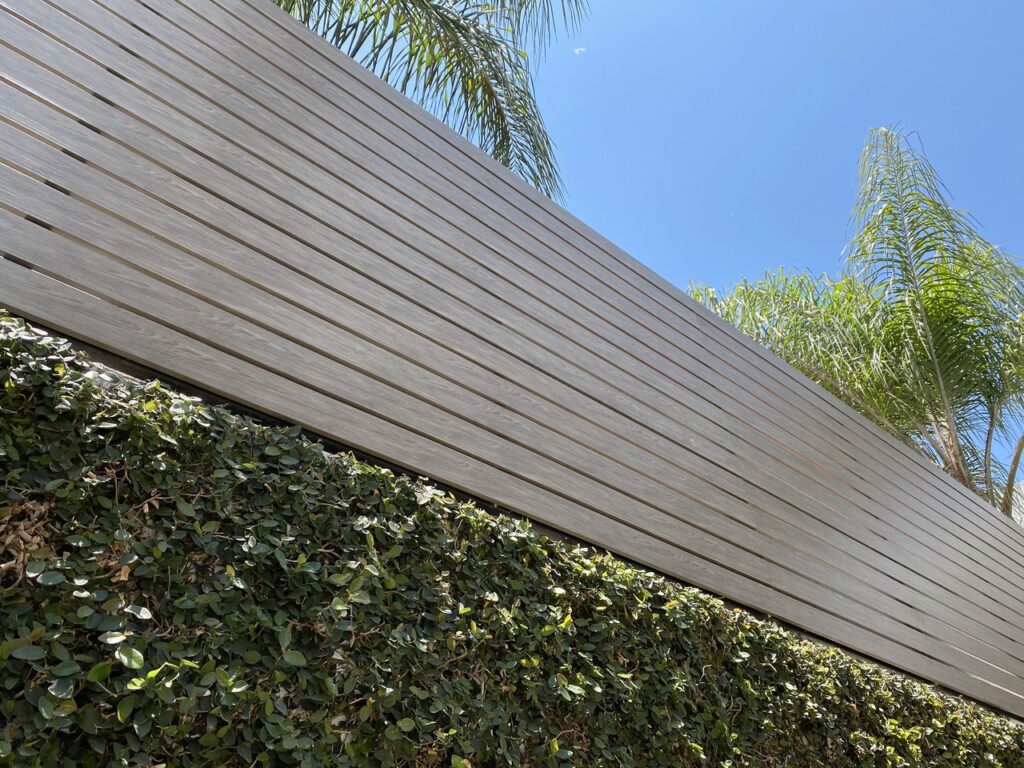 Glass Fences 
Tempered glass is another type of enclosure that can be used to provide security to your home without sacrificing design. This option can be affordable, depending on the quality and durability, and can be easily adapted to any project.
For this type of proposal, glass with a certain level of opacity is often used to preserve privacy and for safety purposes, as transparent glass can pose a collision risk for birds or animals.
Fences with Perforated Panels
The use of perforated steel, aluminum, and PVC panels in architectural design has become a decorative trend aimed at enhancing various spaces such as screens, gates, and fences. While these elements are more decorative than secure, they offer a visually striking design option. Advances in laser cutting technology allow for the creation of unique patterns with a significant level of complexity.
The disadvantage of these applications lies in the complexity of the supporting structure design, typically made of steel, which must accommodate the pattern of the perforated panel. This condition may be limiting for applications where the structure is exposed and visible to residents.
Forged iron fences and steel tubular fences
Forged iron fences continue to be a recommended option due to their quality and durability with regular maintenance. Traditional forged designs persist due to their beauty, although increasingly, minimalist architectural-inspired designs are being integrated. The economical alternative for this type of fencing comes in the form of applying steel tubular profiles of different sizes and gauges. These options are functional, creative, and more cost-effective, although they require higher maintenance costs and frequency. In both cases, we can more frequently see designs that propose integration with other materials such as wood or aluminum to create different patterns in elegant harmony. 
Simpleyfácil Systems
If you are looking for options for your project, Simpleyfácil can help simplify your decision. We offer a wide variety of models for wall covering and privacy space delimitation that are compatible with our pergola and panel systems. These lightweight products are made of aluminum and come with a wide range of laminated coatings that provide ample protection against direct UV exposure. For maintenance, they only require water and mild soap.