A pergola is a simple architectural enclosure defined by a certain number of columns that support the weight of longitudinal beams, connecting the columns to form the space and other transverse beams that hold an open lattice for climbing plants in a garden.
A pergola provides protection from the sun and rain while offering cool shade and decorating our gardens, terraces, and facades. It can be designed as a canopy to cover passageways in an open space or as a standalone structure providing shelter and shade along a pathway.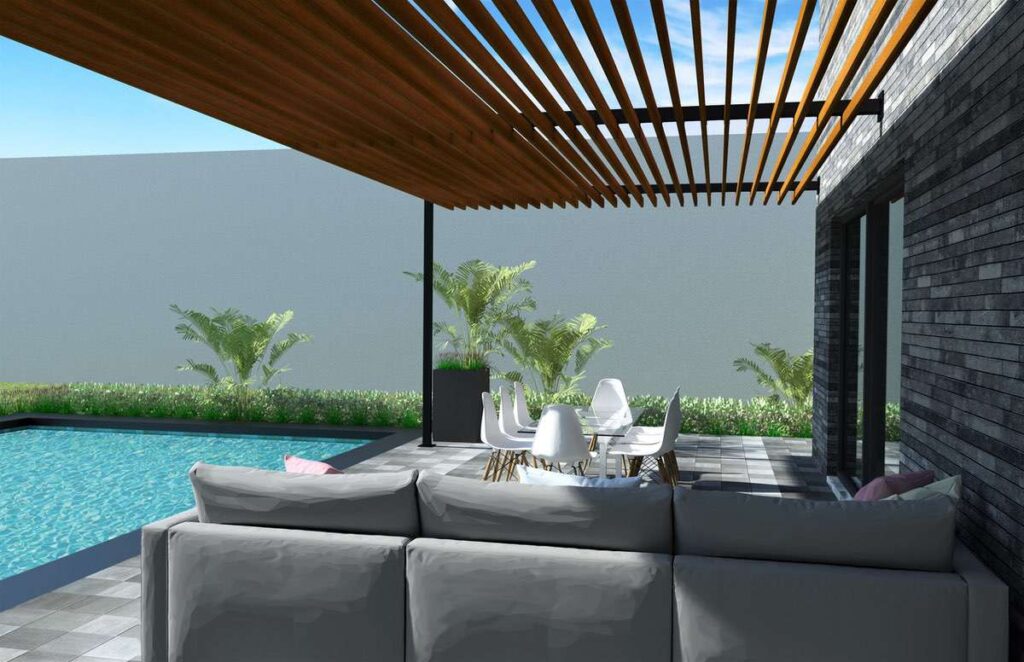 The pergola is one of a house's most pleasant areas or environments. Whether in the garden or outdoors, built independently or linked to other interior spaces, the pergola is always useful for various activities such as resting, reading, conversing, enjoying drinks and meals, and more.
A pergola is an excellent resource for creating a cozy shaded area in the garden, attic, or terrace. It is a permanent and decorative structure, typically made of wood or iron. However, current trends lean towards using aluminum profiles coated with special textured films that compete in appearance with natural wood.
The dimensions of a pergola can be adapted to any available space, making it a highly functional and decorative element.
The use of pergolas has increased in recent years as they provide an easy and cost-effective way to extend the home or redecorate the garden area with a simple and durable structure using new materials and technologies that offer low maintenance and a natural appearance.
This architectural enclosure adds a social atmosphere to the home, ideal for spending pleasant moments with family while enjoying the climate and the outdoors. Its design encourages the integration of various climbing plants to add a green touch, although it's important to consider the amount of sunlight they will receive when selecting suitable plants.
Patio
The patio is structurally similar to a pergola, consisting of four or more posts supporting a roof, providing a shaded area. It differs from pergolas mainly because the covering is complete and waterproof, protecting the space underneath from sun and rain.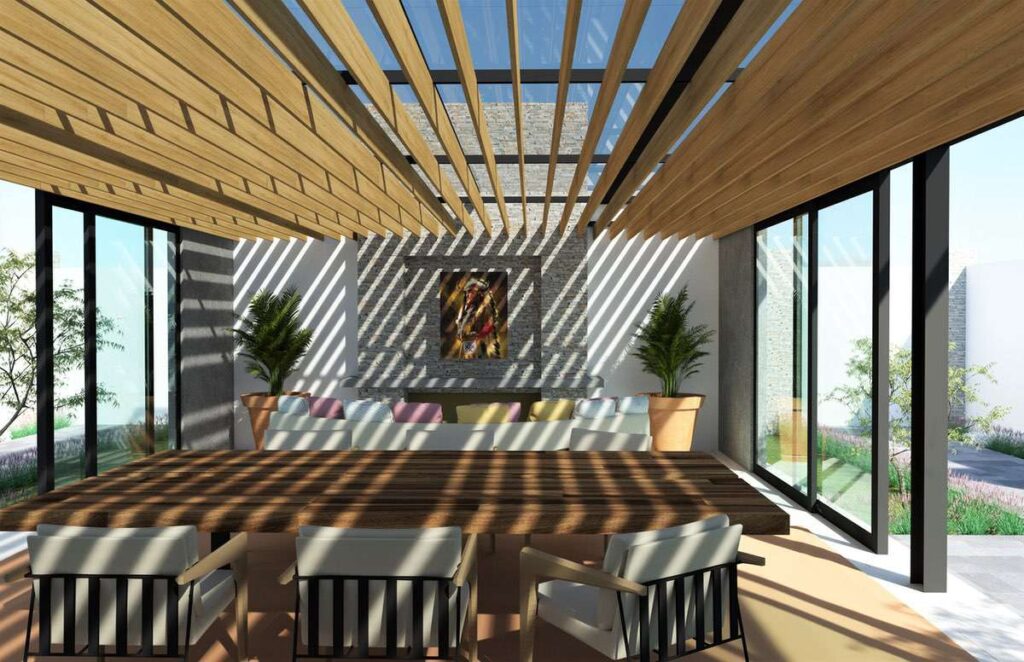 A different pavement is often installed compared to the rest of the space. It differs from pergolas in terms of its purpose: a gazebo is not a passageway element but a space for staying. Furniture such as chairs, tables, or various equipment (kitchen furniture and utensils, furniture for concerts, performances, and other artistic activities and games) are often placed in gazebos.
Due to their usage, basic gazebos consisting of four posts and a shading structure have given way to more elaborate pavilions. There have been advancements in shape; for example, elongated gazebos formed by six posts or hexagonal and octagonal gazebos are common. Regarding the walls, the simple spatial delimitation provided by the posts can evolve into fully enclosed structures with walls resembling a traditional small house rather than a gazebo that can include mosquito nets, curtains, partial walls made of lattices or louvers, and more.
From flat roofs consisting solely of shading structures such as beams, lattices, and meshes, there has been a transition to more constructed roofs with various types of tiles. These roofs can be inclined, with a single or double slope, or have four slopes for square and rectangular structures. For regular polygons, roofs can be conical or pyramidal with as many slopes as there are vertices. Additionally, the interior of gazebos can have infrastructure similar to that of a house or a building, including lighting, sound systems, water supply, heating systems, and more.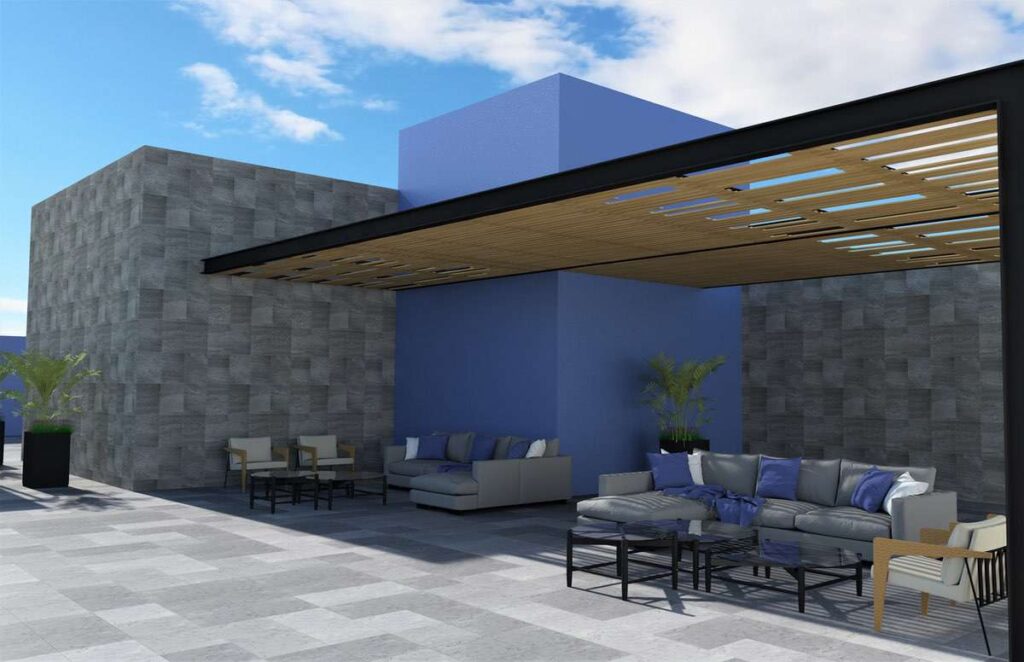 Porche in a Residence
A porch is an architecturally open space that is closed on the top and attached to the main core of a building.
Porches can be located either in the front, immediately before the entrance hall, in the back, or on the sides, serving as an adjacent sitting area to the interior living spaces. Porches are commonly used in residential homes but can also be found in public, private, and government buildings.
As they are covered, the overhead support is provided by columns or pillars, usually located in the open part of the space. On a larger scale, porches can surround entire buildings, squares, or inner courtyards, following the perimeter of the structures.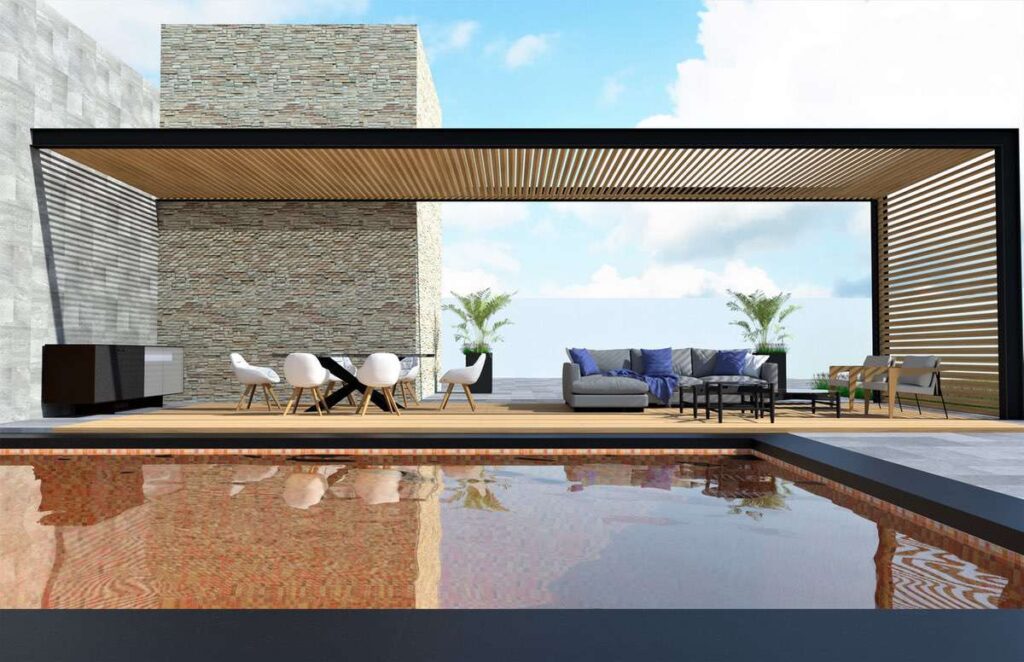 Trellises
A trellis or lattice is a flat structure formed by a more or less dense but always open grid that supports climbing plants such as ivy, roses, or vines. Trellises are often used to enclose or delimit the space of pergolas and gazebos by placing the frameworks between the posts of these architectural elements to partially or fully enclose them.